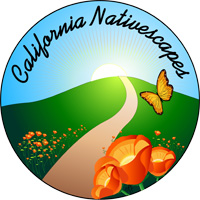 Contractor License #944670


SPECIALIZATIONS
- California Native Plants
- Construction design and installation using recycled and reclaimed materials
- Greywater Systems
- Pond construction and maintenance
- Nature Photography

Help Wanted: Maintenance & Construction Worker
We provide residential homeowners with sustainable Native plant landscaping design and installation, and maintenance services. We create natural landscape designs that are appropriate for each client's particular site, creating a self-sustaining environment that will meet your unique needs. Our goal for each design is to create a beautiful, sustainable, and economical garden appropriate for California's natural conditions.
We are looking for full-time help wanted for California Native plant landscape fine gardening maintenance and/or construction position.
Requirements:
Punctual & Dependable
Able to perform physical labor in outdoor elements
Able to lift & carry 50-80 lbs.
Crew carpools in company truck, when possible. If you have your own vehicle to drive to and from job sites, that is an occasional need, if so mileage reimbursement given.
Possess a valid driver's license and insurance
Knowledge and understanding of California Native plants & fine gardening. Will train the right candidate.
Able to identify weeds and use proper suppression techniques.
Knowledge of IPM (Integrated Pest Management)
Able to work with drip & traditional irrigation, and the ability to troubleshoot problems in the field.
Excellent communication skills (with clients & coworkers).
Able to follow instructions, and report on conditions.
Ability to work independently or with a crew.
Bilingual (English/Spanish) is a plus, but not a requirement.
Compensation & Benefits: starting wage $18 - 20 per hour, depending on experience & qualifications.
Submit Resume to:
California Nativescapes
C/O Rebecca Schoenenberger
PO Box 5760,
San Jose, CA 95150
408-243-5663

www.calnativescapes.com
info@calnativescapes.com