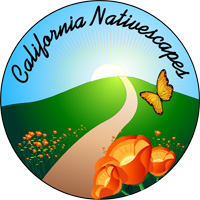 Contractor License #944670


SPECIALIZATIONS
- California Native Plants
- Construction design and installation using recycled and reclaimed materials
- Greywater Systems
- Pond construction and maintenance
- Nature Photography

Installation Services:
Our team of skilled professionals are up to date with all the latest ecologically sound methods and waterwise irrigation technology. We specialize in Native landscaping, as well as waterwise and edible landscapes. We provide full range of services from design, installation, and maintenance. We can also give a estimate to install designs provided by other designers. If you a have plan you need an estimate for, please forward a PDF or other documents to our email info@calnativescapes.com

We can do installations of:

- Arbors
- French Drains
- Grading
- Irrigation (Sprinkler & Drip, Installation & Repair)
- Water Audit
- Waterwise Landscape Rebate
- Irrigation Equipment Rebate
- Lawns
- Lawn Alternatives
- Mulch
- Sheet Mulching
- Plants (Design, Installation & Maintenance)
- Rock work (Walls, Patios & Pathways)
- Dry Creeks (Arroyo or Swales)
- Rain Water Retention
- Water Features (Fountains & Ponds)
- Vegetable beds

Installation Fees:

Labor - $100.00 per man hour
Supplies and Material - Vary on size of landscape
Plants - Depending on size and rarity
Irrigation - Vary on models

Warranty:
At California Nativescapes we stand by our work; all workmanship, irrigation and plants are warranted for one year from installation.